The number of new hires in the U.S. West, which includes Colorado, rose 2.3 percent year over year from February 2011 to February 2012, as layoffs climbed 1.0 percent during the same period.
According to the latest Job Openings and Labor Turnover report (JOLTS),
released Tuesday
by the U.S. Bureau of Labor Statistics, both the West region and the national overall reported increases in new hires. Nationwide, new hires increased 7.3 percent when compared year over year. During the same period, layoffs fell 2.6 percent in the nation overall. (See Table 9 of the report.)
In the West region, with an increase of 1.0 percent, the year-over-year change in the layoffs in February showed a large drop from the 23 percent year-over-year increase that was reported during January. The 2.3 percent year-over-year increase in new hires is a 3-month high.
The first graph shows the year-over-year change in new hires and in layoffs in the U.S. West region.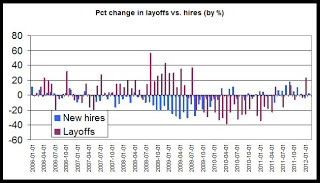 In the second graph, we see the total number of new hires compared with the total number of separations, including quits, layoffs and other separations.
Note that when total hires (the blue line) are above total separations (the purple bar) then a positive net number of jobs have been added to the economy. January 2012 was the second month in a row during which separations have exceeded new hires in the West region.
February 2012 was the first month in three months during which there were more hires than layoffs. There were 26,000 more new hires than separations during February.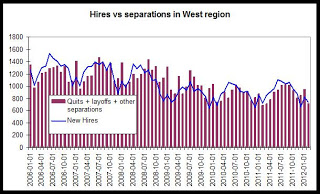 According to Colorado's jobs report for February 2012, February was a productive month for job growth, although the rate of growth was less robust than was seen during most months of 2011, when compared year over year,
See here
for more.
This report suggests some ongoing mild strength in the job market and is along the lines of the the
state employment report.
New hires have clearly not returned to pre-2009 levels, although 8 of the last 9 months have shown increases in the year-over-year comparisons of new hires.
Note: The BLS recent made some significant revisions to employment data at year-end 2011. This analysis reflects the new revised data.