After collapsing in the 4th quarter of 2008,
personal income growth
has slipped into positive territory. At 0.4 percent, however, growth remains limited.
Nationwide, personal income increased $49.7 billion, or 0.4 percent, and disposable personal income (DPI) increased $54.1 billion, or 0.5 percent, in November, according to the Bureau of Economic Analysis.
Personal consumption expenditures (PCE) increased $47.9 billion, or 0.5 percent. In October,
personal income increased $33.6 billion, or 0.3 percent, DPI increased $50.2 billion, or 0.5 percent, and PCE increased $63.5 billion, or 0.6 percent, based on revised estimates.
Colorado data for the third quarter, released last week, showed an increase of .46 percent. Personal income growth fell significantly following the 3rd quarter of 2008, falling almost 2 percent during the first quarter of 2009. The chart below shows recent trends in the state.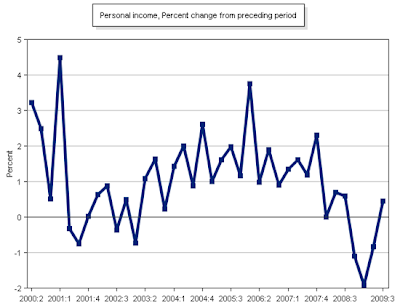 Personal income growth is not adjusted for price changes as recorded in the CPI and is measured in current dollars, so income growth must be measured in light of the CPI. Disposable income data is adjusted.
Colorado percent change in personal income by quarter:
2000Q2 3.24
2000Q3 2.51
2000Q4 0.52
2001Q1 4.51
2001Q2 -0.32
2001Q3 -0.75
2001Q4 0.04
2002Q1 0.64
2002Q2 0.89
2002Q3 -0.36
2002Q4 0.49
2003Q1 -0.73
2003Q2 1.09
2003Q3 1.65
2003Q4 0.24
2004Q1 1.43
2004Q2 2
2004Q3 0.89
2004Q4 2.63
2005Q1 1.01
2005Q2 1.63
2005Q3 1.99
2005Q4 1.18
2006Q1 3.77
2006Q2 0.98
2006Q3 1.9
2006Q4 0.9
2007Q1 1.35
2007Q2 1.63
2007Q3 1.2
2007Q4 2.32
2008Q1 0
2008Q2 0.7
2008Q3 0.6
2008Q4 -1.09
2009Q1 -1.9
2009Q2 -0.83
2009Q3 0.46