The median home price in the West region of the U.S., which includes Colorado, rose 1.6 percent from March 2011 to March 2012. According to new existing home sales data,
released today
by the National Association of Realtors, the median home price rose nationally and in all regions except the Northeast region where the median price fell 1.9 percent.
The first graph shows median home prices for all regions plus the U.S. The median home price in the West rose to $198,300. Nationally, the median home price rose to $163,800. In the West, and nationally, median home prices remains well below the prices reached during 2010 when the homebuyer tax credits were in place. The most recent peak for the median home price in the West was $224,100 reached during July of 2010.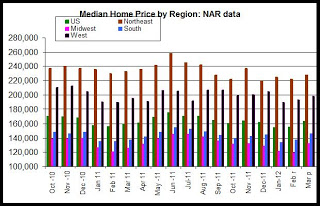 Nationally, home prices rose 2.5 percent, year over year.
According to today's report, home sales transactions (closings) fell 1.0 percent, from March 2011 to March 2012, in the West region while nationally, sales rose 4.0 percent during the same period. All regions reported year-over-year increases in sales activity except the West region. The largest increase was reported in the Northeast where sales rose 13.9 percent.
The second graph shows closings by region. All regions showed a month-over-month increase from February to March, which is common due to seasonality. Sales rose nationally 25.8 percent from February to March, while sales in the West fell 1.0 percent.
Overall, March's sales activity was higher than was the case during March of last year.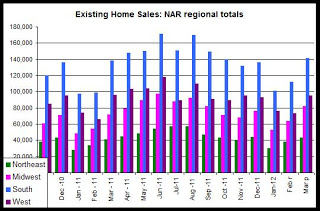 In short, home sales have increased in most of the country when compared year over year, and median home prices have begun to move up. Although the region-wide data from NAR showed a small decline in home sales transactions,
Colorado data
shows
growth in home sales activity
in recent months. Recent
data on releases of deeds of trust
also suggests more sales and refinance activity. More transactions are taking place, and the most recent home price data from sources other than the Realtors, such as FHFA and Case-Shiller, also suggest some mild increases in home prices during the first quarter of 2012.