The median price for condos and townhomes in the metro Denver area decreased 1.5 percent, year over year, in March 2012. According to home price information for condos and townhomes, released by the Colorado Association of Realtors, the median price in the region fell to $121,505 from March 2011's median price of $123,356. Statewide, the median price fell 16 percent, falling from March 2011's price of $142,037 to March 2012's price of $118,414. In the Pikes Peak region, the median price rose 4.7 percent to $130,971 during March, rising from March 2011's price of $123,356.(The monthly median prices discussed in this article are 3-month moving averages.)
As can be seen in the first graph, condo prices continue to slide from peak levels reached back in 2006. Unlike single-family prices which quickly fell in 2009 and then rebounded somewhat, condo prices have seen a long slide over the past several years. The largest decline is seen in the statewide condo prices, and this is likely due to large dropoffs in prices for condo found in several mountain communities.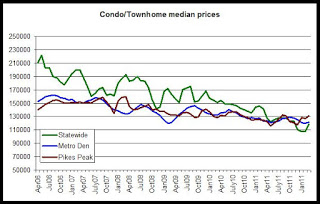 As expected, the data shows that prices in condos and townhomes are significantly lower than single-family home prices. In recent months, the statewide median price has fallen below that found in both metro Denver and in the Pikes Peak region.
The second graph shows year over year changes in median home prices for condos and townhomes. Metro Denver produced a small price increase during November, but for the most part, year over yeach changes in prices have been all negative since mid-2010. Statewide, year over year drops have been large, with each month showing a 15 percent or more drop for each month from December 2011 to March 2012. Only the Pikes Peak region has shown in increases over the past three months.
Clearly, the overall trend in home prices among condos and townhomes over the past year has been down. Recent increases in demand for single-family homes has not yet been felt in condos and townhomes to any significant degree.