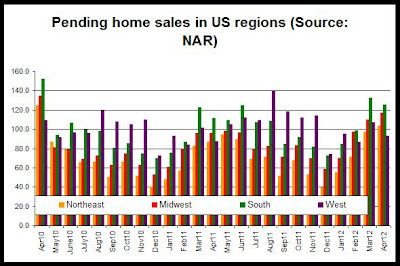 Pending home sales in the US rose in April by 14.7 percent, year over year, according to
new pending home sales data
released yesterday by the National Association of Realtors. According to the press release:
Pending home sales retrenched in April following three consecutive monthly gains, but are notably higher than a year ago, according to the National Association of Realtors®. The Pending Home Sales Index,* a forward-looking indicator based on contract signings, declined 5.5 percent to 95.5 from a downwardly revised 101.1 in March but is 14.4 percent above April 2011 when it was 83.5. The data reflects contracts but not closings.
All regions of the country showed gains in pending home sales, year over year.
In the West, pending home sales increased 6.3 percent from April 2011 to April 2012, and pending sales increased by 14.7 percent nationwide. The West had the smallest year-over-year increase of all regions. Pending home sales increased 22.7 percent in the midwest.
Month to month, the pending home sales index fell 13.2 percent in the West and fell 2.6 percent nationally. The west was the only region to report a month-to-month decline in pending sales although sales activity tends to generally fall from September to October.
Only the northeast and midwest reported month-to-month increases. The West showed the largest decline in the index among all regions.
Overall, the numbers are weaker in the West than in the other regions and in the nation as a whole. Since the West region includes Arizona and Nevada, it is likely that these areas, which continue to face headwinds following the financial crisis, may be dragging on overall regional numbers. Colorado and metro Denver in recent home price data suggests that home price activity is picking up more in Colorado than in many areas of the country.