Year-to-date through December of 2011, 84 percent of new multifamily permits issued have been issued in Larimer, Jefferson, Denver and El Paso counties.
According to new
multifamily permit data
for Colorado counties, 3,946 multifamily permits have been issued from January through December of 2011. 3,336 of them were issued in Larimer, Denver, Jefferson, and El Paso counties. The remaining 610 units were issued in Arapahoe, Boulder, Douglas and Mesa counties.
No other county in the state reported any new multifamily permits.
For more historical info on multifamily permits,
see here
.
In the map below, we see that the geographic distribution of new multifamily permits.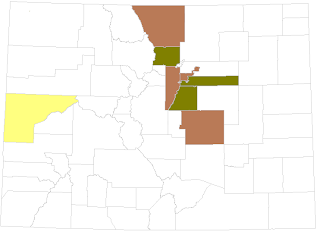 Brown: More than 400 permits issued in 2011
Green: 100-399 permits issued in 2011
Yellow: fewer than 100 permits issued in 2011
White: no permits issued, or no data
Total multifamily permits issued, Jan-Dec 2011
Adams 0
Arapahoe 188
Boulder 103
Broomfield 0
Denver 1,697
Douglas 255
El Paso 657
Jefferson 512
Larimer 470
Mesa 64
Pueblo 0
Weld 0
With so little demand for new condominiums right now, it is safe to assume that the lopsided majority of new multifamily permits being issued are for rental housing. We see most of this activity in areas where vacancy rates have been tight or look to be tight for the near to mid-term.
With apartment vacancy rates headed to five percent in the Denver, Larimer and El Paso counties, the markets appear to be responding to tight vacancies with plans for future construction.
Year-over-year change:
The following show the year-over-year percent changes in new multifamily permits from January-December 2010 to the same period this year.
Adams -100%
Arapahoe -59%
Boulder -69%
Denver +261%
Douglas +254%
El Paso +753%
Jefferson +433%
Larimer -26%
Mesa +33%
Pueblo -100%
Pueblo County declined from 17 permits during 2011 to zero permits during the same period this year. Adams declined from 27 permits to zero permits over the same period.
The Census Bureau has not yet released its 2011 year-end report which include more data from more counties. We will publish an analysis when that data becomes available.