Mass layoff events fell 54 percent to 5 events during January 2012 in Colorado. There were 11 mass layoff events during the same period last year. According to a
new report released yesterday
by the U.S. Bureau of Labor Statistics, mass layoffs in Janaury were at the lowest January total reported in more than ten years.
Monthly mass layoff events grew rapidly after October 2008 in Colorado, and have gradually lessened since early 2010.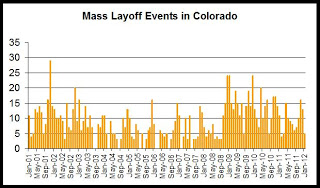 Nationally, mass layoff events decreased 33 percent from 2,558 during January 2011 to 1,705 during January of this year.
January mass layoffs have now fallen three years in a row after peaking at 24 mass layoffs during January 2009. The second graph shows January totals since 2001: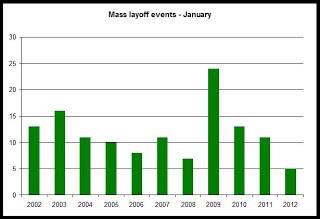 Mass layoffs were rare from 2004 through most of 2008.
Overall, the most recent mass layoffs data suggests that the employment situation continues to stabilize. New layoffs continue to lessen, and
as we've seen
in the most recent employment data, January job growth was at a five year high in Colorado.
New claims for unemployment insurance
New claims for unemployment insurance in Colorado fell year over year by 50 percent to 556 in January 2012. There were 1,126 new claims during Janaury 2011. New claims for unemployment insurance have also gradually fallen since early 2010. Nationally, new claims fell 42 percent from January 2011 to January 2012.
In January new unemployment claims, totals are down three years in a row and are at a ten-year low. January unemployment claims peaked at 1,814 during January 2009 and have fallen each January since.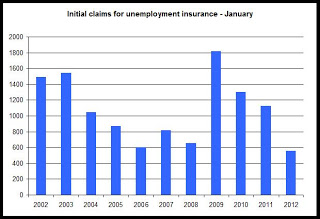 See the
employment data archive
for more on December's job creation.
The Mass Layoff Statistics (MLS) program collects reports on mass layoff actions that result in workers being separated from their jobs. Monthly mass layoff numbers are from establishments which have at least 50 initial claims for unemployment insurance (UI) filed against them during a 5-week period. Extended mass layoff numbers (issued quarterly) are from a subset of such establishments—where private sector nonfarm employers indicate that 50 or more workers were separated from their jobs for at least 31 days.