At the back of the
December foreclosure report
, there is an extra appendix that looks at seasonal factors in foreclosure sales and filings. I now have four years of monthly data, so I've adjusted the averages accordingly. There are some helpful insights into month-by-month trends in foreclosures since 2008.
The following is adapted from the December report:
Historically and on a nationwide basis, foreclosure filings have tended to peak late in the first quarter and early in the second quarter. This may be due to the fact that households often tend to default on mortgages during and immediately after the holiday season in December. This is followed by an increased number of foreclosure filings three to four months later. Note: Averages are based on monthly date from 2008 through 2011.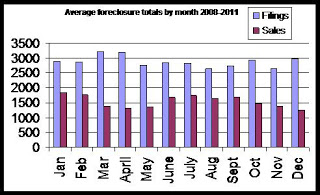 />
Foreclosure sales, on the other hand, tend to peak in both January-February and, to a lesser extent, during the summer. The increases found during January and February are likely due to increases in the speed with which foreclosures are processed following the holiday season. Traditionally, some loan servicers have held off pushing loans to the final stage of foreclosure until after the holidays. The increases in sales found during the summer and early autumn months likely reflect the increased number of filings that occur during March and April. As these filings move through the system, they show up as sales at auction several months later.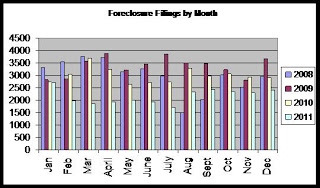 In each month of 2011, with the exceptions of August and September, there were fewer new foreclosure filings than during the same months during the years of 2008, 2009 and 2010. Foreclosure filings activity in 2011 is clearly well below activity reported in recent years.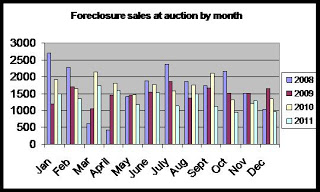 Foreclosure sales at auction totals have not shown as large a downward trend during 2011, and were not consistently below levels reported in earlier years.