The median home price in the West region of the U.S., which includes Colorado, rose 0.3 percent from December 2010 to December 2011. According to new existing home sales data,
released today
by the National Association of Realtors, the median home price rose only in the West region and fell in all other regions. The median price fell the most in the Midwest where it declined 7.9 percent from December 2010 to December 2011.
The first graph shows median home prices for all regions plus the U.S. The median home price in the West during the past six months has ranged from $191,000 to $208,000. The median price was $205,200 during December 2011, and during December of 2010, the median price for the region was $204,500.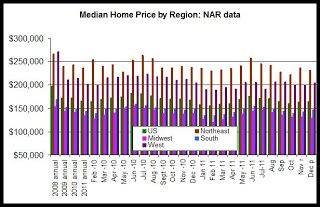 Nationally, home prices fell 2.5 percent, year over year.

Note: The median home price numbers were not affected by the major revision in home sales data. As explained here, home sales numbers were recently revised downward by 14 percent by the National Association of Realtors. Past estimates of home sales had proven to overstate home sales in recent years. The revision attempts to re-benchmark the data to make it more accurate.
According to the revised data, home sales transactions (closings) fell 2.1 percent in the West region, while nationally, sales rose 1.4 percent during the same period. The West reported the only drop in home sales among all regions, falling from 95,000 during December 2010 to 93,000 during December 2011 (not seasonally adjusted). In the Midwest region, where sales rose the most, the year-over-year increase was 7.0 percent.
The second graph shows closings by region. All regions except the West showed a month-over-month increase from November to December. Sales fell 2.1 percent from November to December, while sales in the Midwest rose 11.8 percent.
Overall, December's sales activity was higher than was the case during December of last year, except in the West.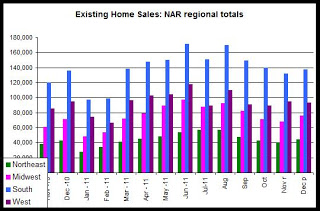 In the West, the recent price declines, broadly speaking, are in agreement with other home price indices such as CoreLogic, Case-Shiller, and the FHFA HPI which also show price declines.
See here
for more. However, these home price indices indicate that home prices are slowly flattening out and may turn slightly positive in coming months.
Conclusions: As can be seen in the first graph, home prices during recent months are down from where they were a year earlier, and the median price in the West is still below the annualized median prices for 2008, 2009 and 2010. However, December's median price in the West was above the 2011 annual median price, which was $201,300.