Home prices in the West region of the U.S., which includes Colorado, fell 8.4 percent from November 2010 to November 2011. According to new existing home sales data,
released today
by the National Association of Realtors, the median home price fell more in the West than in any other region. The median home price in the Northeast, for example, fell 0.1 percent from November 2010 to November 2011.
The first graph shows median home prices for all regions plus the U.S. The median home price in the West during the past six months has ranged from $191,000 to $208,000. The median price was $195,300 during November 2011, and during November of 2010, the median price for the region was $213,100.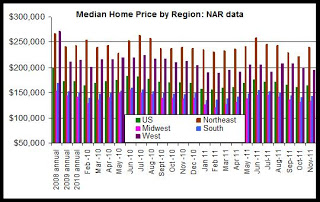 Nationally, home prices fell 3.5 percent, year over year.

Note: The median home price numbers were not affected by the major revision in home sales data. As explained here, home sales numbers were recently revised downward by 14 percent by the National Association of Realtors. Past estimates of home sales had proven to overstate home sales in recent years. The revision attempts to re-benchmark the data to make it more accurate.
According to the revised data, home sales transactions (closings) rose 11.8 percent in the West region, which was close to the national year-over-year change of 10.9 percent. The West reported the largest increase in home sales of all regions, increasing from 85,000 during November 2010 to 95,000 during November 2011 (not seasonally adjusted).
The second graph shows closings by region. In general, closings increased each month from January 2011 to June 2011. July's total fell unexpectedly, but rebounded in August, and then declined again in September. Sales are now expected to decline each month until next January due to seasonal factors. While all regions except the west showed a month-over-month decrease from October to November, all regions showed increases in the year-over-year comparisons for November.
Overall, November's sales activity was higher than was the case during November of last year. This was expected. During the summer of 2010, sales activity fell significantly following the end of the home buyer tax credits. Many homeowners rushed to close their home sales by June 2010 in order to take advantage of the tax credit. Consequently, the second half of 2010 showed diminished home sales activity.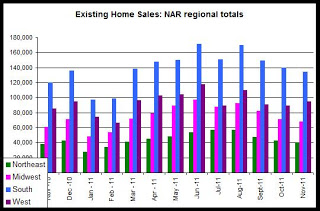 The recent price declines, broadly speaking, are in agreement with other home price indices such as CoreLogic, Case-Shiller, and the FHFA HPI which also show price declines.
See here
for more.
Conclusions: As can be seen in the first graph, home prices during recent months are down from where they were a year earlier, and the median price in the West is still below the annualized median prices for 2008, 2009 and 2010. The region shows stability in prices and a lack of significant upward pressure in prices right now.