The number of new hires in the U.S. West, which includes Colorado, rose 4.4 percent year-over-year from October 2010 to October 2011, as layoffs decreased 15.2 percent during the same period.
According to the latest Job Openings and Labor Turnover report,
released today
by the U.S. Bureau of Labor Statistics, the West region's labor markets performed better than the U.S. overall. The number of new hires in the U.S. rose 2.7 percent from October 2010 to October 2011. During the same period, layoffs fell 4.3 percent for the U.S.
with a decline of 15 percent, the year-over-year change in the layoffs in October 2011 showed the largest drop in the West since April 2010, while the year-over-year increase of 4.4 percent in new hires was the smallest increase in hires reported since April 2011.
The first graph shows the year-over-year change in new hires and in layoffs in the U.S. West region. The overall trend is toward a gradual reversal of the large increases in layoffs and big declines in new hires that were seen during 2009.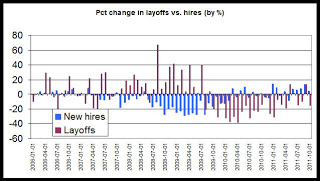 In the second graph, we see the total number of new hires compared with the total number of separations, including quits, layoffs and other separations.
Note that when total hires (the blue line) are above total separations (the purple bar) then a positive net number of jobs have been added to the economy.
For the West region during October 2011, there were 17,000 more separations than hires. This is not a sizable disparity. Over the past four months, separation and hire levels have been somewhat similar, and this follows six months of job growth as can seen from February through June of 2011 . Overall, we can conclude that there was a small amount of job loss during October, according to this report, but that the year overall has shown some positive net job gains.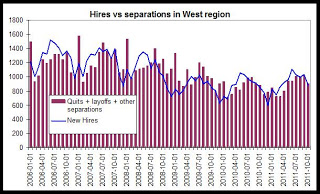 According to Colorado's jobs report for October 2011, October was a robust month for job growth, as can
be seen here
.