Colorado gained 79,574 jobs in November 2011 compared to November of last year, and the non-seasonally-adjusted unemployment rate fell year-over-year from 8.9 percent to 7.8 percent. According to the
most recent employment data
, collected through the Household Survey and released today by the Colorado Department of Labor and Employment, total employment in November, not seasonally adjusted, rose to 2.514 million jobs. There were also 54,000 more people in the work force during November, compared to November 2010.
The unemployment rate remained largely flat from October to November in spite of job gains due to a relatively large number of workers joining the labor force.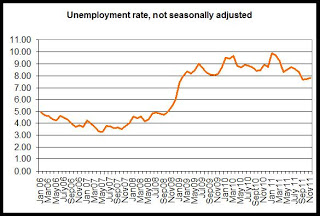 From November 2010 to November 2011, total employment rose 3.2 percent, while the labor force rose 2.0 percent. The total labor force in November included 2.72 million workers.
As can be seen in the second graph, total employment and total workforce size have decreased slightly, month-over-month. Year over year, both total employment and the labor force rose together. However, both remain well below the July 2008 peak.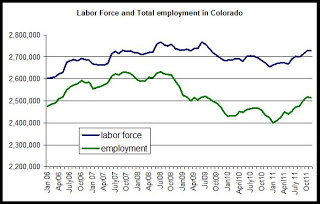 The employment total is now 117,900 jobs below the peak levels experienced during July 2008 when there were 2.63 million employed workers. Compared to the labor force peak in July 2008, the labor force is now down by more than 40,500 workers.
In the third graph is shown the year-over-year comparisons, by percent, for total employment. November 2011 was the fifth month in a row showing a positive year-over-year change in total employment. This followed 33 months in a row of negative job growth in year-over-year comparisons. At 3.2 percent, the year-over-year percent change in total employment was the largest gain since January 2007 and was at a 59-month high in November 2011. Between August 2008 and July 2011, no month posted a positive change in total employment when compared to the same month a year earlier.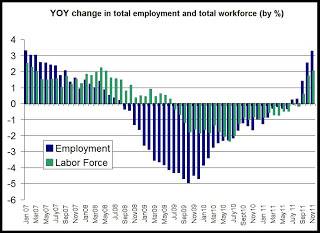 The graph also shows the year-over-change in the labor force. Total labor force size rose from November 2010 to November 2011, and was only the third time that the labor force has grown, year over year, since June 2009 . The labor force size had shrunk, year over year, for 26 months in a row from July 2009 to August 2011.
These numbers come from the Household Survey employment data, so the size of the workforce is dependent on the number of people stating that they are actively looking for work if not employed. Discouraged workers who have stopped looking for work are excluded.

Establishment Survey
The establishment survey, on the other hand, which surveys employers, showed much smaller job gains, year over year. According to the establishment survey data,
found here
, Colorado's total employment (not seasonally adjusted) increased by 25,000 from November 2010 to November 2011. Total employment also decreased by 2,000 from October 2011 to November 2011.