According to new metro Denver vacancy and rent data for 2011's fourth quarter,
released this week
by the Colorado Division of Housing, multifamily rental vacancies fell again while median and average rents increased slightly.
The region-wide vacancy rate in metro Denver has fallen every quarter for the past nine quarters when compared to the same quarter a year prior. As can be seen in the first graph, the year-over-year change in vacancies has not been positive since the third quarter of 2009, when the vacancy rate rose 13.8 percent over the year prior.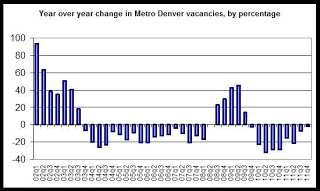 The second graph shows the vacancy rate for the metro Denver area for each quarter during the last ten years. 2011's second-quarter vacancy rate is the lowest fourth-quarter vacancy rate reported since 2000, when the fourth-quarter vacancy rate was 4.7 percent. Vacancy rates in metro Denver declined following the 2002 recession, but peaked in Metro Denver in 2009 during the most recent recession. In spite of lackluster job growth, the vacancy rate then quickly fell again, and has remained at or below 5.5 percent for the last six quarters.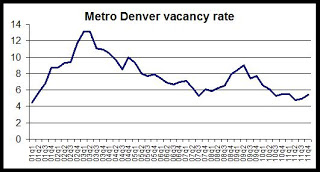 When comparing all county areas in the metro Denver area, we find that the Boulder/Brromfield area has consistently reported some of the lowest vacancy rates in recent quarters, while Arapahoe County has shown some of the highest rates. Until recently, Denver county and Arapahoe county tracked closely together, but Denver's vacancy rate has fallen well below that of Arapahoe county since late 2010. Douglas County and Jefferson County have also shown low vacancy rates compared to the rest of the metro area since late 2010.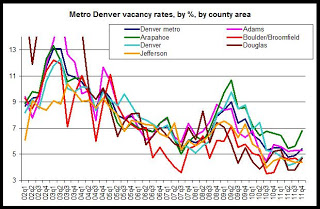 According to industry experts, such as Terrance Hunt of Apartment Realty Advisors, the greatest demand for apartments has been seen recently in central Denver, in the Boulder Broomfield/Interlochen corridor, and along light-rail lines.
Some of the lightest demand is found in more suburban areas, which helps to explain why Arapahoe County now has the highest vacancy rate among the metro Denver counties.
In year over year changes in the vacancy rate, Denver county shows the most robust downward trend in recent quarters, while the weakest downward trend is found in the Boulder/Broomfield area. Although the Boulder/Broomfield area tends to have some of the lowest vacancy rates, rent growth in that area has produced frictional vacancy, in which tenants are beginning to move out and look for new apartments in response to a large amount of growth in rents. In other words, once vacancies reach very low levels, property managers will begun to push rents, and as this happens, vacancies move up as a result of increased tenant relocation.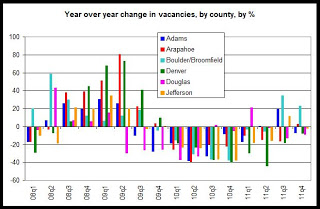 Year-over-year change in vacancies, 4th Q 2010 to 4th Q 2011:
Adams -7.7%
Arapahoe +2.8%
Boulder/Broomfield +23%
Denver -8.2
Douglas -9.5
Jefferson -2.3