The Bureau of Labor Statistics
released today
the January CPI for US urban areas and regions. In the West region, from January 2011 to January 2012, the CPI increased 2.6 percent. This is an increase over the year-over-year increases for January during 2009, 2010 or 2011, during which the change in CPI never exceeded 2 percent.
In the first graph, we can see that the CPI growth in January 2012 was the largest annual change for January since 2008, prior to the financial crisis of October 2008. 2005 through 2007 also showed higher annual changes.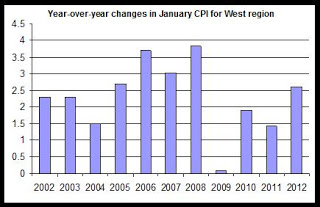 The index increases are being driven by increases in prices in apparel, food and transportation. Transportation prices increased by 3.9 percent, year over year. Food costs and apparel also increased, rising 3.6 percent and 4.5 percent, respectively.
Housing prices were restrained with a year-over-year increase of 1.8 percent. Although annual increases in rent (according to State of Colorado data) have exceeded 5 percent in many areas of the state, the housing component of CPI also reflects declining and stagnant home prices, which indirectly mitigate the increases in rent levels within the index.
Recent price increases will impact household calculations and attitudes on spending as many households conclude that discretionary spending will need to be scaled back in the face of increasing food and transportation costs. According to the most recent personal income data,
personal income growth
has not been keeping up with CPI growth.
The second graph shows year-over-year changes in CPI for all months since 2002. If current trends continue, CPI growth stalled around 3 percent for much of 2011, but has been declining during the past four months.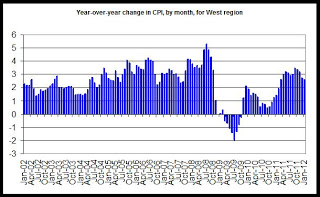 Nationally
, the CPI increased slightly more than in the West region:
The Consumer Price Index for All Urban Consumers (CPI-U) increased
0.2 percent in January on a seasonally adjusted basis, the U.S.
Bureau of Labor Statistics reported today. Over the last 12 months,
the all items index increased 2.9 percent before seasonal adjustment.

The indexes for food, energy, and all items less food and energy all
rose in January, each increasing 0.2 percent. Within the food group,
the index for food away from home increased while the index for food
at home was unchanged; within the energy group the gasoline index
increased while the index for household energy declined.
Over the past ten years (comparing January 2003 to January 2012), the CPI has risen 22 percent. In other words, a dollar today buys less than 4/5ths of what it did in 2003.