The number of new hires in the U.S. West, which includes Colorado, rose 1.6 percent year over year from March 2011 to March 2012, as layoffs climbed 8.4 percent during the same period.
According to the latest Job Openings and Labor Turnover report (JOLTS),
released Tuesday
by the U.S. Bureau of Labor Statistics, the West reported an increase in new hires, and the nation overall showed a 2.0 percent increase in new hires, when compared year over year. During the same period, layoffs fell 0.3 percent in the nation overall, although they increased significantly in the West region. (See Table 9 of the report.)
In the West region, with an increase of 8.4 percent, the year-over-year change in the layoffs in March was the fourth-largest increase since 2009, while the year-over-year increase of 1.6 percent in new hires was a small increase, but supported the slight drift upward in new hires that has been seen since early 2011.
The first graph shows the year-over-year change in new hires and in layoffs in the U.S. West region.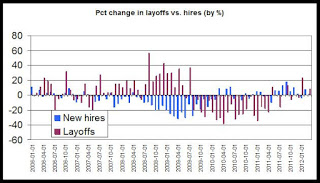 In the second graph, we see the total number of new hires compared with the total number of separations, including quits, layoffs and other separations.
Note that when total hires (the blue line) are above total separations (the purple bar) then a positive net number of jobs have been added to the economy. March 2012 was the second month in a row during which new hires have exceeded separations in the West region. This followed two month in which separations outnumbered new hires. So far, overall new hiring activity looks similar to 2010 and 2011.
For the West region during March 2012, there were 77,000 more hires in the region than separations. This is significantly fewer than March 2011 when there were 133,000 more hires than separations.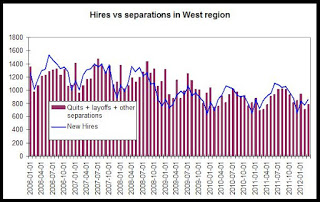 According to Colorado's jobs report for March 2012, March was a productive month for job growth, although the rate of growth was less robust than previous months, when compared year over year,
See here
for more.
With layoffs growing more than new hires, this report suggests some weakness in the job market, although job creation does continue to take place. Nationwide job growth in April was disappointing and national GDP growth was revised down to 2.2 percent during the first quarter signalling ongoing challenges in the economy.
Note: The JOLTS employment data is tied to the Establishment Survey which does not cover small business hiring and self-employed persons.The BLS recent made some significant revisions to employment data at year-end 2011. This analysis reflects the new revised data.