House prices in May in the Mountain region, which includes Colorado, fell 9.0 percent, year-over-year. Nationally, the house price index fell 6.1 percent. The new house price index numbers,
released last week
by the Federal Housing and Finance Agency, also showed that the national index is down 18.9 percent from the peak level reached in June 2007, while the Mountain region's index is down 30.6 percent over the same period.
The FHFA monthly index is calculated using purchase prices of houses purchased with loans that have been sold to or guaranteed by Fannie Mae or Freddie Mac. It is a repeat-sales index similar to the Case-Shiller index, but limited to GSE loans.
The decline in house prices, both regionally and nationally, continues the trend that began in mid-2007 as prices have fallen almost constantly since the peak.
From April 2011 to May 2011, however, the US index increased by 1.2 percent, which is one of the largest month-to-month increases recorded since 2006. Over the same period, the index rose 3.4 percent in the mountain region.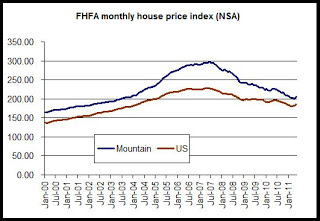 Notably, the FHFA index does not show a "double dip" as can be seen in the Case-Shiller data (
shown here
), in which prices begin to recover in 2009, but then fall again after mid-2010. The FHFA monthly data shows almost nothing but losses following mid-2007.
The second chart shows each month's house price index compared to the same month a year earlier: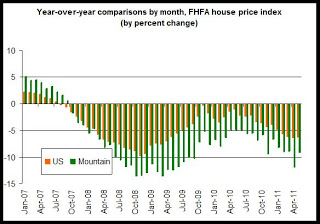 We can note that the Mountain region has performed more poorly (from a seller's perspective) than the national index. This runs contrary to some local experience and some statistics. The Case-Shiller data for the Denver metro area, for example shows that local prices did not decline as much as the national composite index following the financial panic in 2008.
Since we're looking at regional, data, however, we have to keep in mind that this data reflects house prices in Arizona and Nevada, and this no doubt will continue to put downward pressure on regional prices for now.
Comparisons with other indices:
The National Association of Realtors
data shows increases
in home prices and home sales activity in May 2011 compared to May 2010.
NAR data tends to be very optimistic (from a Realtor perspective) compared to other indices like CoreLogic or Case-Shiller, but we would nevertheless expect a bit of an increase from May 2010 to May 2011. May 2010 was a period of depressed sales and prices since it immediately followed the end of the homebuyer tax credits. Nevertheless, the FHFA data for May shows a continued decline.
Case-shiller also
showed continued declines
for home prices in May 2011, when compared year-over-year. The Case-Shiller decline, however, was smaller than the FHFA decline with a drop of 4.6 percent.
The national
CoreLogic home price index
fell 7.42 percent during this period, and the Corelogic index for Colorado fell 3.93 percent.