During the first seven months of 2011 in Colorado,
building permits issued
for multifamily construction are up 101 percent, year over year, while permits issued for single-family construction are down 3.2 percent for the same period.
This year, through July, there have been 1729 multifamily permits issued in Colorado, and 5430 single-family permits issued. For the same period during 2010, there were 858 multi-family permits issued, and 5430 single-family permits.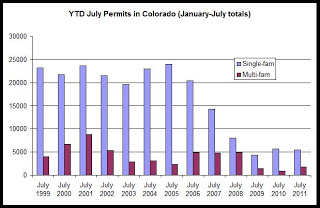 For the month of July alone, single-family permits are up, year-over-year, by 17.1 percent, but multi-family permits are up 2,094 percent, reflecting a tiny permit total of 25 during July 2010. There were 961 single-family permits and 546 multi-family permits issued during July 2011. There were 820 single-family permits issued during July 2010.
The second graph shows that overall, both multi-family and single-family permits in July are at levels below what was typical over the past decade, but that both are increasing. In the case of single-family permits, seasonal factors are contributing to the uptick in permits issued.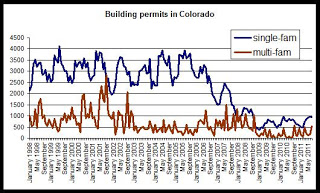 Regionally, new construction of single-family homes showed year-over-year increases during June and July, but was unchanged during August.
See here
for more.
Multifamily activity has shown indications of renewed growth in the year-to-date totals in recent months. There has been much optimism within the multifamily industry about rent growth which in turn will lead to new construction.
The third graph shows that July's permit total was up from 2010 and is now at the second-highest July total since 2002. Only July 2005 reported more multifamily permits during July over the past decade. July's multifamily permit total is also the second-highest permit total for any month since 2008. Only September 2010 reported more multifamily permits, with a total of 561.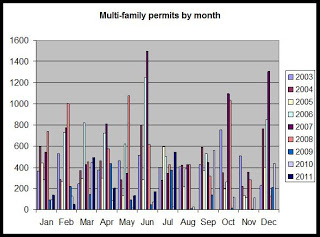 Growth in single-family permit activity suggests there is some hope among single-family homebuilders, but that demand is restrained. July's permit total for single-family units was at a 3-year high, although it remains well below typical July totals reported over the past decade.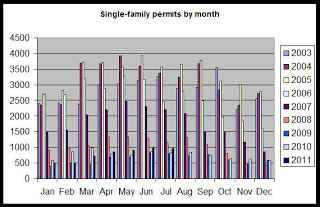 Conclusions: This data further reinforces the notion that interest in new multifamily construction continues to increase at a much faster rate than single-family construction.