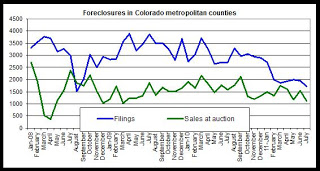 Click here for full report.
Both foreclosure filings and sales at auction were down in July 2011 when compared to July 2010.
Comparing year-over-year from 2010 to 2011, foreclosure filings in July decreased 36.2 percent with totals falling from 2,718 to 1,733.
July 2011 foreclosure sales (completed foreclosures) were down compared to July 2010 with a decrease of 28.3 percent from 1,581 to1,134.
Filings fell to a 36-month low with a 10.9 percent drop from June to July. Foreclosure sales at auction fell to a 29-month low with a drop of 25 percent from June to July.
In year-to-date comparisons, comparing the first seven months of 2010 with the same period this year, foreclosure filings were down 31.8 percent and sales at auction were down 19 percent.