Home prices in the West region of the U.S., which includes Colorado, fell 13.0 percent from August 2010 to August 2011. According to new existing home sales data,
released today
by the National Association of Realtors, the median home price fell more in the West than in any other region. The median home price in the South, for example, fell 0.8 percent from August 2010 to August 2011.
The first graph shows median home prices for all regions plus the U.S. The median home price in the west has been declining for the past three months, ranging from $206,000 to $189,000.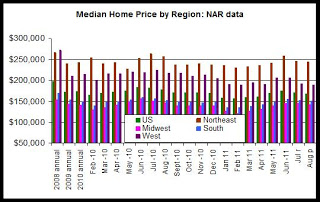 Nationally, home prices fell 5.1 percent, year over year.
Home sales transactions (closings) rose 23.2 percent in the West region, which was the second-largest increase in home sales closings of any region, year-over-year. Home sales rose 30.1 percent in the Midwest from August 2010 to August 2011, and closings rose by 21.3 percent nationally during the same period.
The second graph shows closings by region. In general, closings increased each month from January 2011 to June 2011, following a typical cyclical pattern. July's total fell unexpectedly, however, and it looks like home sale peaked for the year in June. In many years, home sales might peak in July.
Overall, Augusts's sales activity was higher than was the case during August of last year. This was expected. During the summer of 2010, sales activity fell significantly following the end of the home buyer tax credits. Many homeowners rushed to close their home sales by June 2010 in order to take advantage of the tax credit. Consequently, the second half of 2010 showed diminished home sales activity.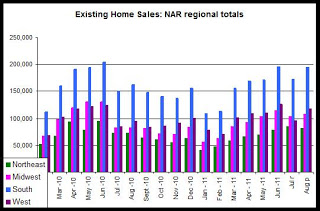 Conclusions: As can be seen in the first graph, home prices during recent months are down from where they were a year earlier, and the median price in the West is still below the annualized median prices for 2008, 2009 and 2010. The region shows some stability in prices but is lacking significant upward pressure in prices right now.
NAR continued to points to lack of approvals for financing as a major factor:
"The biggest factors keeping home sales from a healthy recovery are mortgages being denied to creditworthy buyers, and appraised valuations below the negotiated price. Buyers may be able to find more favorable credit terms with community and small regional banks, and Realtors® can often give buyers advice to help them overcome some of the financing obstacles," Phipps said.