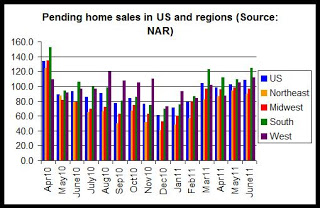 Pending home sales in the western US fell in June rose 15.5 percent year over year, according to new
pending home sales data
released today by the National Association of Realtors. According to the press release:
Lawrence Yun, NAR chief economist, said there may be some increase in closed existing-home sales. "For the majority of transactions, the lag time between pending contacts to actual closings is one to two months. Therefore, the two consecutive months of rising activity should lead to overall improvement in closed sales in upcoming months," he said. "Though a higher than normal cancellation rate can hold back final closing figures, it could well be that some past cancellations are nothing more than delayed buying decisions rather than outright cancellations."

Yun said tight credit and economic uncertainty have been constricting the market. "The best way to ensure a more solid recovery in housing is to simply return to normal, sound credit standards so more creditworthy home buyers can get a mortgage," he said.
The pending home sales index for the western region of the US, which includes Colorado, rose from 96.9 to 111.9, year over year, while the national index rose 17.3 percent from 92.7 to 108.7, year over year.
All regions of the country showed gains in pending home sales, year over year. The rise from June 2010 to June 2011 reflects the drop off in new pending home sales that followed the end of the homebuyer tax credit in April 2010. Homes needed to be under contract by April 2010 to be eligible for the tax credit. New properties under contract fell after April, so year-over-year comparisons with May 2010 and June 2010 are likely to show gains.
Month to month, the pending home sales index rose 6.7 percent in the West and 5.7 percent nationally. This was expected as home buying tends to increase from April to May.
The West showed the second-smallest increase in the index among all regions. the Midwest showed the biggest gains with a year-over-year increase of 22.1 percent.
Pending home sales help us predict future closings, so this news suggests that closings in June and July may be stronger both month over month and year over year.
Closings have been rather weak in Colorado so far this year. Comparing to 2010 is of limited value due to the tax credit-driven run-up in closings, but compared to both 2009 and 2008, total closings in 2011 are either flat or down. According to the CAR data (
seen here
) there have been 21,262 closings through May in 2011. During the same period of 2009, there were 21,152 and during 2008 there were 26,586. There were 23,461 during the same period of 2010. So far, 2011 is about even with 2009, which was a weak year.