Home prices in the West region of the U.S., which includes Colorado, rose 9.5 percent from June 2010 to June 2011. According to new existing home sales data,
recently released
by the National Association of Realtors, home prices rose more in the West than in any other region. The median home price in the Midwest, for example, fell 5.3 percent from June 2010 to June 2011.
The first graph shows median home prices for all regions plus the U.S. The median home price in the West surged above the annual median prices in the West for 2009 and 2010, but remains below the annual median price for 2008. The median price in the west during June 2011, rose well above the median prices reported during all months of the previous year, rising to $240,400. During June of 2010, the median price for the region was $219,600.
This is a very large and uncharacteristic increase in the West, and tends to contradict recent trends which show much more subdued increases. As a regional number, it does suggest that demand in many areas of the region, such as California and Arizona, may be experiencing some substantial increase in demand, but a trend has not been established at this point.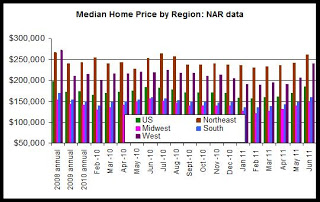 Nationally, home prices rose 0.8 percent, year over year.
Home sales transactions (closings) fell 2.6 percent in the West region, which was the smallest drop in home sales closings of any region, year-over-year. Home sales dropped 16 percent in the Northeast from June 2010 to June 2011, and closings fell by 8.8 percent nationally during the same period.
The second graph shows closings by region. Closings have grown for the past four months, largely driven by seasonal factors, but June 2011 closings remain below June 2010 levels. All regions showed declines in the year-over-year comparisons for June.
Much of this can be attributed to the closings left over from the rush to purchase properties under the homebuyer tax credit. To take advantage of the tax credit, properties needed to be under contract by April 2010. June 2010's closings reflect this. So, it is to be expected that closings are down in June compared to one year earlier.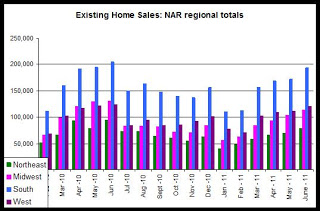 Nevertheless, both home purchase activity and median prices remain below the peak levels experienced during 2009.
Note, see the most recent Colorado
median home pric
e and
closings data
from the Colorado Assoc. of Realtors, for more local sales activity and median prices.
The NAR tends to be the most optimistic among the various reports on home prices and home sales activity. The most recent
Case-Shiller data
, although only through May, suggests continued declines in prices.