Median home prices in the Metro Denver and Colorado Springs areas fell again year over year, dropping 3.4 percent in Metro Denver from May 2010 to May 2011. The median price fell 5.8 percent in Colorado Springs during the same period.
According to data
recently released
by the Colorado Association of Realtors, prices have been showing signs of stability in recent months, with Metro Denver prices near $223,000 during the past six months. In Colorado Springs, the median price has been near $183,000 for the past three months.
More specifically, the median home price in May 2011 was $223,195 in Metro Denver and the median price was $183,947 in the Colorado Springs region.
The first graph shows median home prices for the Metro Denver and Colorado Springs regions since 2003.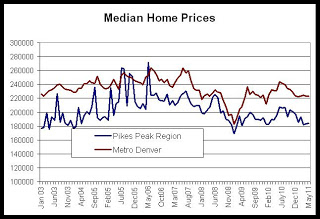 As of May 2011, the median price in Metro Denver is 15 percent below the June 2006 peak of $263,881. In the Colorado Springs area, the May 2011 median home price was 20 percent below the July 2007 peak of $230,399.
In general, median home prices in the two regions have fallen since mid-2010 following the end of the homebuyer tax credit, although they have stabilized in recent months.
The second and third graphs show how far below the most recent peak of the median home prices in the two regions.
By this measure, The Colorado Springs area is near an 18-month low, and during May 2011 was 79% of 2007's peak. In Metro Denver during May, the median home price was 84% of 2006's peak price.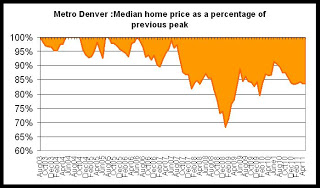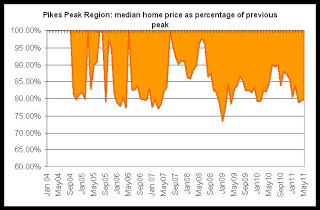 Comparisons with Case-Shiller and April Prices
Metro Denver prices reflect recent home price data
released today
by Case-Shiller. The Case-Shiller index showed that home prices, in data up through April in Metro Denver, had increased slightly month-over-month, but remained down, year-over-year by 4 percent.
The Case-Shiller numbers are a three-month average up through April. Similarly, the Realtors Association's April median price for metro Denver show a year-over-year decline of 3.2 percent.
Note: The median prices presented here are for single-family homes only and do not include condos.