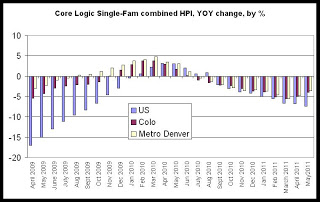 Home prices in Colorado fell 3.93 percent from May 2010 to May 2011, continuing a downward trend in home prices in Colorado and nationwide. According to the May Home Price Index (HPI), released today by CoreLogic, The year-over-year decline for Colorado was the smallest decline in four months, and the drop for the Denver area was the smallest in five months. However, the trend in negative year-over-year changes continues and year-over-year changes have been negative for each month since August 2010.
Nationally, the index fell 7.42 percent, and it fell 3.6 percent in the Denver-Aurora-Broomfield metro area during the same period.
Comparing year-over-year changes in the HPI in all states and the District of Columbia, Colorado experienced the 30th largest decline in the home price index. Annual changes in the HPI ranged from -16.4 percent in Idaho to +4.4 percent in New York.
The graph shows the year-over-year changes for the past 25 months in the US, Colorado and the Denver metro area. Over the past two years, the general trend in all three areas has been shaped by the home buyer tax credit, which was introduced in 2008 and expired in April 2010. Clearly, home prices climbed throughout the duration of the tax credit period, but have declined since the credit's expiration.
During most months in the past two years, the Colorado and metro Denver HPI have performed better (from a property owner's perspective) than the national HPI. The national HPI has declined more than the local HPIs in each month since August 2010.
This data for May suggests that home prices have not yet turned around in Colorado as of May 2011. Local Realtor data, as well as the Case-Shiller data all show that in year-over-yea comparisons, home prices continue to fall when compared to the same month in the prior year.
New pending home sales data from NAR suggests some new strength in home sales transactions at the regional level, but in Colorado statewide, home sales activity through May remains about equal with 2009.
See the
home price data archive
for more.
The CoreLogic HPI is a three-month weighted average of March, April and May (with May weighted the most) and is not seasonally adjusted.