Of the 1,042 new multifamily permits issued during the first five months of 2011, 989 of them, or 94 percent, have been issued in only three counties. According to
new housing permit data
recently released by the Census Bureau, almost all of new multifamily permitting activity year-to-date through May 2011 has occurred in Denver, El Paso and Larimer counties with 633 permits, 230 permits, and 126 permits, respectively.
Including permits for single-family permits, and permits for duplexes, triplexes, and fourplexes, 4,727 permits have been issued in Colorado during 2011.
The map shows which counties have the highest concentrations new permit activity. Not all counties report local permit data, but the counties that have reported data account for approximately 81 percent of statewide permit activity.
(
See here for statewide permit data through May 2011.
)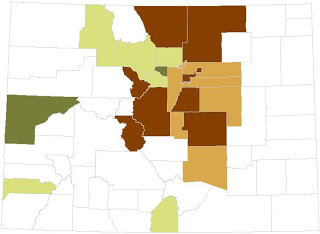 Permit activity shown for each county is shown proportional to the number of existing housing units. For example, year-to-date, Denver, which has reported 963 new housing units through May, has issued one new permit for every 277 existing housing units in that county. By contrast, Pueblo County has issued 64 units year to date, which is only one new unit for every 952 existing housing units in that county.
Permit activity is broken in quartiles:
Burgundy: 1st quartile (most permit activity)
Green: 2nd quartile
Orange: 3rd quartile
Yellow: 4th quartile (least permit activity)
Among metropolitan counties, the total number of permits issued year to date are:
Adams - 218
Arapahoe - 241
Boulder - 78
Broomfield - 17
Denver - 963
Douglas - 354
El Paso - 838
Jefferson - 185
Mesa - 135
Pueblo - 64
Most permit activity is for single-family units.
At 4,727 total new units for the state, year-to-date, permit totals are well below totals that were common during the past decade. For example, during the same period (Jan-May) of 2005, 18,855 permits were issued in Colorado, with 1,808 of them being for multifmaily units.
Note: Permit activity measures "New Privately Owned Housing Units." and does not include commercial construction such as retail or office.