The number of new hires in the U.S. West, which includes Colorado, fell 10 percent, year-over-year from May 2010 to May 2011, as layoffs increased 17 percent during the same period.
According to the latest Job Openings and Labor Turnover report,
released Tuesday
by the U.S. Bureau of Labor Statistics, the West region's labor markets performed more poorly than the U.S. overall. The number of new hires in the U.S. fell 4.5 percent from May 2010 to May 2011. During the same period, layoffs fell 1.3 percent for the U.S. During the same period.
The magnitude of the year-over-year declines in new hires was impacted at least partially by the hiring of Census workers during Springs 2010.
Nevertheless, at -10 percent, the year-over-year change in the new hires in May 2011 showed the largest drop since January 2010, while the year-over-year increase of 17 percent in layoffs was the largest increase in layoffs reported since July 2009.
The first graph shows the year-over-year change in new hires and in layoffs in the U.S. West region. The increase in layoffs reported in May was the first year-over-year increase in layoffs after 19 months of declines in the year-over-year comparisons.
By contrast, the year-over-year change in hires was the largest drop in 16 months.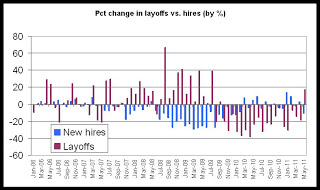 While the national year-over year comparisons in these factors showed little change, the regional changes for the West were more pronounced.
In the second graph, we see the total number of new hires compared with the total number of separations, including quits, layoffs and other separations.
Note that when total hires (the blue line) are above total separations (the purple bar) then a positive net number of jobs have been added to the economy.
For the West region during May 2011, the number of separations and hires are essentially equal with 940,000 new hires and 942,000 separations. Overall, we can conclude that few net jobs were added in the region during May. This rather lackluster performance follows three months during which positive net jobs were added.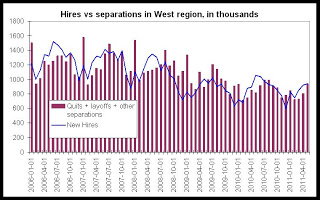 According to Colorado's jobs report for May 2011, there were 6,100 fewer jobs in May 2011 compared to May of last year, but the non-seasonally-adjusted unemployment rate fell year-over-year from 8.6 percent to 8.5 due to declines in the size of the work force.
See here
for more.