Home prices in the West region of the U.S., which includes Colorado, slipped 12.6 percent from May 2010 to May 2011. According to new existing home sales data,
released today
by the National Association of Realtors, home prices fell more in the West than in any other region. The median home price in the Northeast, for example, rose 6.1 percent from May 2010 to May 2011.
The first graph shows median home prices for all regions plus the U.S. The median home price in the West remains below the annual median home prices for 2008, 2009 and 2010. After six months of declines from mid 2010 to early 2011, the median home prices has remained generally flat in the West during the past five months.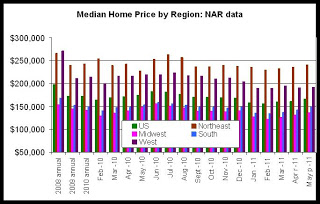 Nationally, home prices fell 2.9 percent, year-over-year.
Home sales transactions (closings) fell 8.2 percent in the West region, which was the smallest drop in home sales closings, year-over-year. Home sales dropped 20 percent in the Midwest from May 2010 to May 2011, and closings fell by 12.9 percent nationally during the same period.
The second graph shows closings by region. Closings have grown for the past three months, largely driven by seasonal factors, but May 2011 closings remain below May 2010 levels. All regions showed declines in the year-over-year comparisons for May.
Much of this can be attributed to the closings left over from the rush to purchase properties under the homebuyer tax credit. To take advantage of the tax credit, properties needed to be under contract by April 2010. May 2010's closings reflect this. So, it is to be expected that closings are down in May compared to one year earlier.
Nevertheless, both home purchase activity and median prices remain well below peak levels.
According to the NAR press release:
NAR chief economist [Lawrence Yun] said temporary factors held back the market in May, as implied from prior data on contract signings. "Spiking gasoline prices along with widespread severe weather hurt house shopping in April, leading to soft figures for actual closings in May," he said. "Current housing market activity indicates a very slow pace of broader economic activity, but recent reversals in oil prices are likely to mitigate the impact going forward.
The pace of sales activity in the second half of the year is expected to be stronger than the first half, and will be much stronger than the second half of last year."
[Emphasis mine.]
Yun doesn't say why the second half of the year should be much stronger, and this is not clear given ongoing complications from lending activity, inflation and the risk of further exogenous shocks like a Greek default on debt, which would likely affect credit availability even in the U.S.
Note, see the most recent Colorado
median home price and closings data
from the Colorado Assoc. of Realtors, for more local sales activity and median prices.