In today's foreclosure report,
found here
, we noted that year-to-date (through May) both foreclosure filings and foreclosure sales at auction are down, year-over-year, in every metro county. Although it saw the smallest year-to-date decline among all the counties, Mesa County did show a 7.7 percent year-over-year drop in foreclosure sales. Mesa County showed a 30.1 percent drop in filings during the same period, which puts in on a par with the combined metro county total.
For the month of May alone, foreclosure filings fell only 4.2 percent in Mesa County, but sales fell 36.7 percent, which is the largest year-over-year decline in Mesa County foreclosure sales since the Division began tracking monthly numbers in 2008.
The graph shows the change over time in the year-over-year comparisons. The graph also shows the combined metro county totals.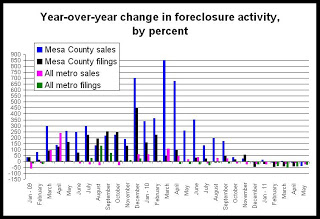 Mesa County experienced some of the largest year-over-year increases in foreclosure activity in the state in recent years. The largest increase occurred in March 2010 when the foreclosure sales total was 850 percent higher than during March 2009. During the same period, the year-over-year change for all metro counties was107 percent.
Since then, year-over-year changes in Mesa County have declined, and both filings and sales were down, year-over-year in both April and May 2011. In most metro counties, foreclosure totals had leveled out in mid-2010 as Mesa County continued to show sizable increases.
Although it is too early to declare a trend, the recent numbers may indicate that Mesa County is beginning to see some stability for the first time since 2008.
Historically, Mesa County began to experience large increases in foreclosures well after the Front Range.
See here
for more.