Year-to-date through May in Colorado,
building permits issued
for multifamily construction are up 32 percent, year over year, while permits issued for singlefamily construction are down 11 percent for the same period.
This year, through May, there have been 1013 multifamily permits issued in Colorado, and 3489 singlefamily permits issued. For the same period during 2010, there were 763 multi-family permits issued, and 3938 single-family permits.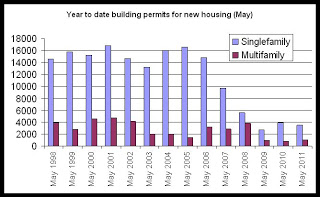 For the month of May alone, single-family permits are up, year-over-year, by 19 percent, but multi-family permits are up 907 percent. There were 909 single-family permits and 131 multi-family permits issued during May 2011. There were 758 single-family permits issued during May 2010 and only 13 multi-family permits issued during the same period.
The second graph shows that overall, both multi-family and single-family permits in May are at levels below what was typical over the past decade.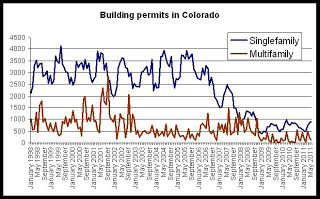 New construction of single-family homes has shown some indications of moderate growth in recent months.
Recent stats on May sales
of newly-built homes from the Census Bureau showed new homes sold in the entire western United States during May 2011 grew 33 percent over May 2011. Nevertheless, new home sales in the West remain at the second-lowest May total recorded in at least ten years.
Additionally, multifamily activity has also shown indications of renewed growth in the year-to-date totals. There has been much optimism within the multifamily industry about rent growth which in turn will lead to new construction. Year-to-date totals for 2011 are now at a three-year high, but growth in new construction has been small, with 2011's total only slightly above 2009's year-to-date total of 981.
The third graph shows that May's permit total was up from 2010 and is now at a three-year high, but totals remain at only a fraction of what was issued during May of 2006, 2007 and 2008.
In spite of 10-year lows in vacancy rates and increasing strength in rents, new permitting and construction in multifamily housing has been slow to warm up. New construction has likely been constrained by a lack of availability in financing for new projects.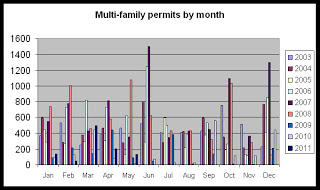 Growth in singlefamily permit activity suggests there is some hope among singlefamily homebuilders. May's permit total for singlefamily units was at a 3-year high, although it remains well below typical May totals reported over the past decade.