Residential remodeling activity increased 21 percent in the Western U.S. from May 2010 to May 2011. According to the May 2011 Residential Buildfax Remodeling Index, released last week by BUILDERadius, The Western U.S. showed the largest rate of increase in its index value, outpacing all other regions.
According to Buildfax's
June 2011 release
:

The Residential BuildFax Remodeling Index rose 22% year-over-year—and for the nineteenth straight month—in May to 124.3, the highest number in the index to date. Residential remodels in May were up month-over-month 14.6 points (13%) from the April value of 109.7, and up year-over-year 22.1 points from the May 2010 value of 102.2.

"Through the first five months of 2011 we have seen impressive gains within the remodeling index and May has continued that trend with a record setting month," said Joe Emison, Vice President of Research and Development at BuildFax. "Even with the continued struggles in the economy, the remodeling industry has been a bright spot, as consumers look to make upgrades to their current homes, rather than purchasing a new residence. Based on the trends from the first months of this year, we expect to continue seeing strong gains from coast to coast."
In the graph, we see that the year-over-year percent change in the western region has fallen slightly below the national index, but outpaces all other regions.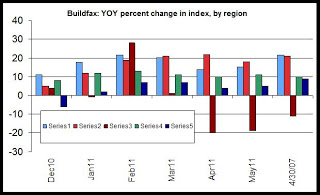 Overall, the report suggests substantial increases in the amount of residential remodeling activity in the economy. Often, remodeling activity reflects an availability of household capital for some construction and home-improvement activities while there may be an absence of the large amounts of household capital necessary for relocation and new home purchases.
As we've seen in recent data for
housing starts in the West
, new single-family home construction remains at historic lows. Construction in multifamily housing has increased, but new permit activity and starts are both down in single-family housing. In an environment of little new single-family product and lackluster sales, many homeowners have turned to remodeling projects, as is reflected in the May report.
The big exception is the Midwest region, which has shown substantial decreases in remodeling activity over the past three months.
As a supplement, I've included the second graph which shows the year-over-year change in the numeric value of the index by region.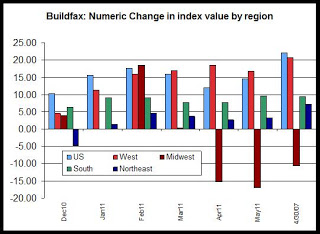 About the BuildFax Remodeling Index
The BuildFax Remodeling Index is based on construction permits filed with local building departments across the country. The index tracks the number of properties permitted. The national and regional indexes all have an initial value of 100 set in April of 2004, are based on a three-month moving average, and are not seasonally adjusted.