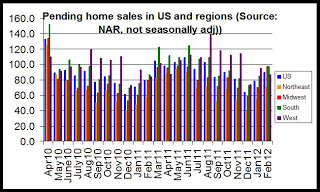 Pending home sales in the western US in February rose 3.1 percent year over year (not seasonally adjusted), according to new
pending home sales data
released today by the National Association of Realtors.
The national index rose 13.9 percent over the same period. The West region showed the smallest increase of all regions in the non-seasonally adjusted data, and was the only region to show a year-over-year decline in the seasonally-adjusted data. From February 2011 to February 2012 in the Northeast, for example, the pending home sales index rose 22.8 percent.
Month to month, the pending home sales index (seasonally adjusted) fell 2.6 percent in the West and fell 0.5 percent nationally. Only the South reported a larger month-to-month decline than the West.
Pending home sales help us predict future closings, so this news suggests that closings in March may be only slightly be stronger in 2012 in the year-over-year comparisons.
An analysis of 12-month moving averages for home sales closings through January in Colorado showed an ongoing and slow increase of overall sales activity in the state in recent months.
See here
for more.
Assuming that NAR's regional data is applicable to Colorado, this suggests that this slow and mild trend will continue.