Residential remodeling activity increased 14 percent in the Western U.S. from January 2011 to January 2012. According to the January 2012 Residential Buildfax Remodeling Index, released last week by BUILDERadius, The Western U.S. was tied with the Midwest for the largest rate of increase in its index for January 2012, outpacing all other regions and the U.S. as a whole.
According to Buildfax's
January release
:
Seasonally-adjusted annual rates of remodeling across the country in January 2012 are estimated as follows: Northeast, 430,000 (down 7% from December and up 12% from January 2011); South, 1,122,000 (up 17% from December and up 6% from January 2011); Midwest, 595,000 (up 9% from December and up 14% from January 2011); West, 852,000 (up 10% from December and up 14% from January 2011).
Viewing the Economic Recovery Through Remodels

"Residential remodeling this winter is as strong as it has been in more than five years. We expect residential remodeling to continue to grow throughout 2012," said Joe Emison, Vice President of Research and Development at BuildFax.
In the graph, we see that, with the exception of January 2012, the year-over-year percent change in the western region has outpaced all other regions and the U.S. as a whole for the past eight months. Growth rates have been solid in recent months. January 2012's year-over-year change was smaller than January 2011's year over year increase.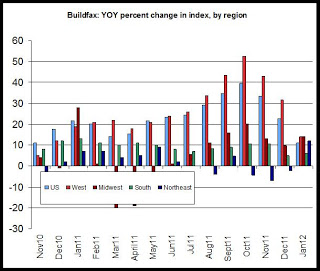 Overall, the report suggests ongoing strength int the demand for new remodeling, although growth in that demand appears to have peaked last fall and is now declining.
About the BuildFax Remodeling Index
The BuildFax Remodeling Index is based on construction permits filed with local building departments across the country. The index tracks the number of properties permitted. The national and regional indexes all have an initial value of 100 set in April of 2004, are based on a three-month moving average, and are not seasonally adjusted.