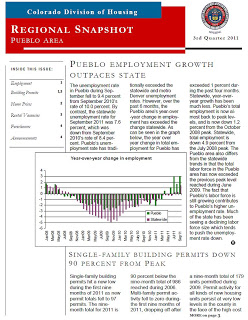 The New
Pueblo Area

Housing Snapshot
is now available.
This completes all the regional
Housing Snapshots
based on data available during the Third quarter.
The others are:
Colorado Springs Area
Northern Front Range
Grand Junction Area.
There is also the statewide
Housing Snapshot
.
See the
Housing Snapshot

archives
for all of them.
At the moment, I haven't planned a metro Denver
Housing Snapshot
because so much of what is posted on Divisionofhousing.com is data specific to metro Denver. The regional Snapshots are an effort to provide a little extra analysis for regions of the state that generally don't get as much attention as metro Denver.