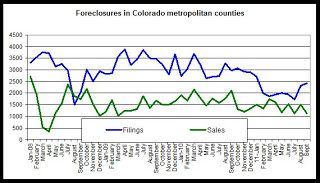 We recently released statewide foreclosure totals for Colorado during the third quarter. For those of you who follow the monthly stats,
we've posted the monthly data
through September 2011.
(The October data should be available next week.)
Findings for September:

Both foreclosure filings and sales at auction were down in September 2011 when compared to September 2010.

Comparing year-over-year from 2010 to 2011, foreclosure filings in September decreased 17.9 percent with totals falling from 2,959 to 2,429.

September 2011 foreclosure sales (completed foreclosures) were down compared to September 2010 with a decrease of 46.8 percent from 2,111 to1,124. The year-over-year drop in auction sales is the largest drop reported since January 2009.

Filings rose to an 8-month high with a 4.5 percent increase from August to September. Foreclosure sales at auction fell to a 4-month low with a decrease of 24.9 percent from August to September of this year.

In year-to-date comparisons, comparing the first nine months of 2010 with the same period this year, foreclosure filings were down 29.9 percent and sales at auction were down 22.2 percent.
See here
for the full report.
The monthly reports feature data from the following counties:
Adams
Arapahoe
Boulder
Broomfield
Denver
Douglas
El Paso
Jefferson
Larimer
Mesa
Pueblo
Weld