Nationwide, existing home sales fell in February. According to
MarketWatch
:
Sales of new and used homes have been down in the dumps since a housing market bubble burst after the onset of the 2007-2009 recession. A high unemployment rate, combined with stricter lending standards, have made it harder for Americans to buy homes despite low interest rates.

Existing-home sales, for instance, were 2.8% lower in February 2011 than they were in the same month a year earlier.
Colorado's February numbers were
recently released
by the Colorado REALTORS Association. Statewide data really only helps give us a limited overall glimpse of the state, since the different markets of the state can vary significantly. Nevertheless, it helps to get a grasp of the whole state.
Colorado has followed the national trend with a February drop in home sale closings as well. As the first charts shows, the number of closings in February 2011 was near January 2011's eight-year low of 3,125 closings. February 2011 ended up a bit with 3,185 closings statewide, but February 2011 remains down 8 percent from Feb 2010's total of 3,461.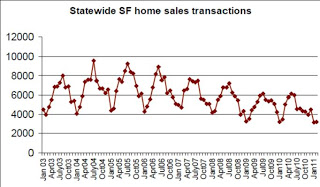 February's numbers also continue the trend in total closings falling below 2010's totals for each month. In other words, seven of the past eight months have shown fewer closings than during the same month the previous year.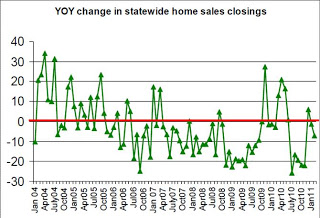 Prices have generally shown a fair amount of stability according to the Realtor data. In line with the
Case-Shiller data
and the
FHFA data
, year-over-year price changes have hovered between 1 percent and -10 percent, which if coupled with the CS and FHFA data suggests continued stability. The Realtor data tends to be more volatile in general, so the recent trend suggests a continued and very slow decline in prices overall. The median price is certainly down from mid-2009, but is moving at a very slow pace.
The statewide median home price in Colorado was $201,000 during February, down 5.2 percent from February 2010 when the median home price was $212,000.
The continued decline in total closings will no doubt continue to push this down, although there have been no sudden or drastic changes of any kind in quite some time.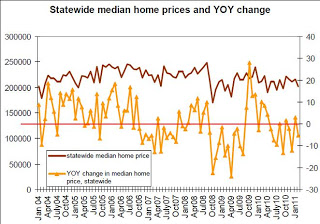 Case-Shiller will release January data next week.