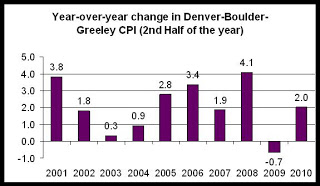 The Consumer Price Index for All Urban Consumers (CPI-U) for the
Denver-Boulder-Greeley, Colo., metropolitan area
increased 2.0 percent from the second half of 2009 to the second half of 2010 the U.S. Bureau of Labor Statistics reported on February 17. The Denver-Boulder-Greeley CPI is released twice per year.
The most recent index also shows a 1.4 percent increase in the index from the first half of 2010 to the second half of 2010. Year-over-year, the largest increases were found in transportation, which increased 6.2 percent, and
In recreation, which increased 6.1 percent. Food prices increased 1.2 percent, according to the report, and housing prices increased 1 percent.
Deflationary pressures continue in the market place in the face of stagnant wages and limited job growth. New layoffs in government jobs also provide downward pressure on demand for goods and services. On the other hand, commodity prices have been increasing in recent months. On March 16, The Labor Department reported that, nationally, wholesale prices jumped by the largest amount reported in two years due to the steepest rise in food prices in 36 years.
According to
the Associated Press: "Food prices soared 3.9 percent last month, the biggest gain since November 1974. Most of that increase was due to a sharp rise in vegetable costs, which increased nearly 50 percent. That was the most in almost a year. Meat and dairy products also rose. "
According to the
CPI Blue Card for the "West" region
of the US, prices for all items rose 1.9 percent in February from a year earlier.