During the first half of 2011 in Colorado,
building permits issued
for multifamily construction are up 42 percent, year over year, while permits issued for single-family construction are down 6.7 percent for the same period.
This year, through June, there have been 1183 multifamily permits issued in Colorado, and 4469 single-family permits issued. For the same period during 2010, there were 833 multi-family permits issued, and 4793 single-family permits.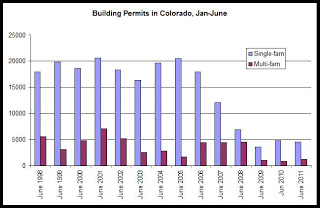 For the month of June alone, single-family permits are up, year-over-year, by 14.6 percent, but multi-family permits are up 142 percent. There were 980 single-family permits and 170 multi-family permits issued during June 2011. There were 855 single-family permits issued during June 2010 and only 70 multi-family permits issued during the same period.
The second graph shows that overall, both multi-family and single-family permits in May are at levels below what was typical over the past decade, but that both are increasing. In the case of single-family permits, seasonal factors are contributing to the uptick in permits issued.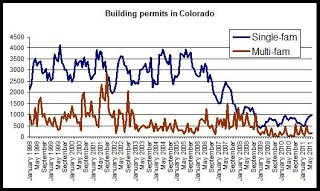 New construction of single-family homes has shown some indications of growth in recent months.
See here
for regional housing starts data. Housing starts in June were at a 33-month high in the western US.
Additionally, multifamily activity has also shown indications of renewed growth in the year-to-date totals. There has been much optimism within the multifamily industry about rent growth which in turn will lead to new construction.
The third graph shows that June's permit total was up from 2010 and is now at a three-year high, but totals remain at only a fraction of what was issued during June of 2006, 2007 and 2008.
In spite of 10-year lows in vacancy rates and increasing strength in rents, new permitting and construction in multifamily housing has been slow to warm up. New construction has likely been constrained by a lack of availability in financing for new projects.
Growth in single-family permit activity suggests there is some hope among single-family homebuilders. May's permit total for single-family units was at a 3-year high, although it remains well below typical June totals reported over the past decade.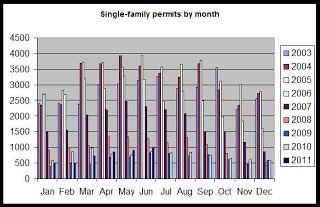 Click here
to see where the most single-family permits are being issued.