The Bureau of Labor Statistics
released quarterly data on extended mass layoffs
and initial unemployment claims for the third quarter of 2011.
"Extended mass layoffs" are a little different from the mass layoffs that are
reported on monthly
by the BLS. Specifically, an extended mass layoff is "defined by the filing of 50 or more initial claims for unemployment insurance benefits from an employer during a 5-week period, with at least 50 workers separated for more than 30 days. Such layoffs involve both persons subject to recall and those who are terminated."
This quarterly report focuses a little bit more on permanent and longer-term separations while the monthly statistics track all separations regardless of duration.
The report also tracks initial claims for unemployment insurance associated with the extended mass layoffs.
In Colorado, the trend in both mass layoffs and in initial claims continues downward. As can be seen in the first graph, totals for both claims and layoffs are returning to levels commonly reported during the inter-recession period from 2004 to 2007.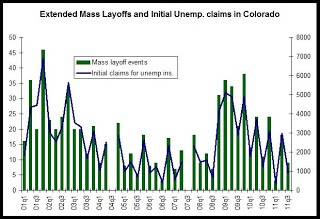 This trend largely mirrors the national trend which is also downward. According to the BLS press release:
Employers in the private nonfarm sector initiated 1,226 mass layoff events in the third quarter of 2011 that resulted in the separation of 184,493 workers from their jobs for at least 31 days, the U.S. Bureau of Labor Statistics reported today. Total extended mass layoff events decreased over the year from 1,370 to 1,226, and associated worker separations fell from 222,357 to 184,493. Events and separations reached their lowest third quarter levels since 2007. Both events and separations have decreased over the year for eight consecutive quarters. Third quarter 2011 layoff data are preliminary and are subject to revision.

Both events and separations in the manufacturing sector declined to series' lows during the third quarter of 2011. Fifty percent of private nonfarm employers indicated they anticipated some type of recall, up from 45 percent a year earlier.
In the second graph, we see the year-over-year changes in initial claims for both the US and Colorado. For the past seven quarters, the year-over-year change in new claims has been down-year-over-year. This mirrors the recovery period of 2003 and 2004. The declines follow a period of seven quarters of significant year-over-year increases in claims during 2008 and 2009.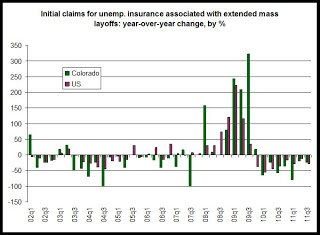 The ongoing declines in mass layoff events and claims suggest a slow and ongoing recovery in the job markets, although the volume in job creation has yet to prove sufficient to absorb new additions to the labor force.