New single-family home sales fell in the US, and in the West region, which includes Colorado. New home sales fell to the second-lowest April total recorded in at least ten years.
The report
, which monitors sales activity for newly constructed houses, reported that in the West, new home sales were down year over year, falling 20 percent to 8,000 in April 2011 from 10,000 new homes sold in April 2010. Nationwide, sales dropped off 21 percent, falling from 41,000 to 32,000 during the same period.
In April, new home sales were at the second-lowest April total in at least a decade. Only April 2009 reported fewer new home sales with a total of 7,000. The first graph shows monthly new home sales totals for each month since 2003:
For the West region: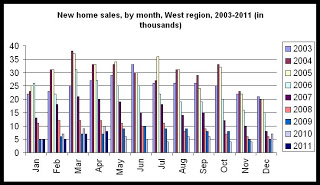 The second graph shows that new home sales continue to fall and have generally followed a downward trend since the middle of the decade.
New home sales peaked during the spring and summer of 2005 and have trended downward since. The number of new houses sold in the United States is down 74 percent since the peak of March 2005, and new home sales in the West have fallen 78 percent since sales peaked in the region during March 2004.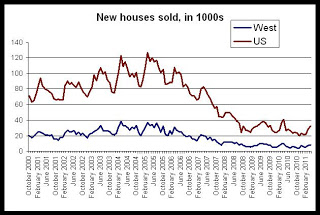 The third graph shows the declines in both US and regional totals in new homes for sale.
The number of new homes for sale has also fallen off considerably. The number of new houses for sale in the West has fallen 73 percent since the total peaked during June 2007, and the same total has fallen 69 percent in the US since the number of new homes for sale peaked in the US during August 2006.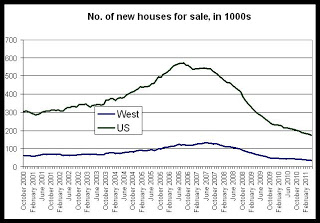 The number of new single-family homes for sale in the West is now at the lowest level it's been in more than ten years.
As a final note, we can also look to the new home inventory. In this case, we calculate inventory by subtracting the number of new home sales in a given month from the number of new homes for sale at the end of the previous month. In the final graph, we see that the inventory is now at a ten-year low of 30,000 homes. This is good news for owners seeking to sell homes since it suggests that fewer new homes are sitting and waiting to be sold, thus diminishing some of the inventory-driven downward pressure on prices.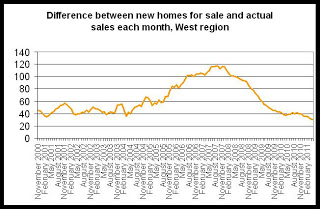 In the most recent housing starts data for April,
discussed here
, there is still no evidence any any imminent jump in the number of new homes being constructed, so new home sales and homes for sale are likely to continue at very low levels, at least in the near term. On the other hand, in the same housing starts data, there is some evidence of an uptick in activity among multifamily structures.